Class of 1960
Picnic at Lodi Lake
April 27, 2018
Marsha Sanger #45:
Twenty-three classmates attended our 45th Class of "60 Gathering held at Lodi Lake, and twenty-eight in all.
Those in attendance were: John Bender & spouse, Cara, Patti Bender, Sharon Christopherson and spouse Ron, Dave Hildenbrand, Marlene Hunter, Bob Kellar, Carolyn Marshall, Stan Melcher, Marilyn Ostermann & spouse, Jin, Annette Reiswig, Judy Remmick, Doug Saddler, Marsha, Sanger, Shirley Savig, Mavis Seibel, Ron Suess, Mike Sullivan, Lynette Walther, Kathy Welsh, Mack Wipple, Dewely Willis & spouce, Jeanete, Janet Woehl, Janiced Woehl and Joannie Woehl (younger sister).
E-mails of regret or they reslponded to my last update, #44, and tell everyone hello, came from:
Diane Becker, Bill Belfortse, Betteann Bettger, John Blaufus, Judy Bouska, Dianne Cooper, Dave Cristofani, Katy Daugherty, Tom Dearborn, Carolyn DeVinny, Faye Doty, Starla Filler, Claire Fujita, Bob Fuller, Hideo Harada, Carol Hughes, Janie Keir, Judie Keir, Linda Kundert, Larry Leno, Joyce Leventini, Georgia Maul, Fred McFarland, Lanell Peden, Robert Rocque, Maxine Schaffer, Donna Schumacher, Mike Zeiter.
Marleine Hunter brought copies of grammar school photos from Lincoln, Needham, & woodbride Schools. Judy Remmick said that she will lpost them on her we site....It was easy in most cases to pick out our classmates even when they were in grammar school. [JARHt NOTE: See at the end of this article.]
Thank you Judy Remmick and Shirley Savig for taking photos and sending them to me. I will try, with the help of an AppleCare phone person, to drag, drop, mix, match and hopefully put it all together and save as a pdf so EVERYONE will be able to SEE the photos this time.
I now have a new whole new operating system and a new application to write my updates. It's only taken me 44 previous trial and errors to get it right. I am a very slow learner, but I'm like "Sisyphus" and will keep trying until I make it happen.
EVERYONE who gathered looked absolutely terrific. We had perfect weather with temperature around 70 degrees. Thank you to all who brought tablecloths to spiff up or dining area. Marilyn and spouse Jim stopped on their way south, as they now live in Santa Barbara. Mike and Ron drove over from Santa Rosa. Carolyn, Dewely, Janet, Janice, Joanne, Lynette and Shirlely drove from the Sacramento area. Judy drove over from Lafayette and the rest of us sallied forth from different locales in and near Lodi.
I will include a photo tht Donna Schumacher sent to me showing how she celebrated her 75th birthday. Wonder what's being plans for 376?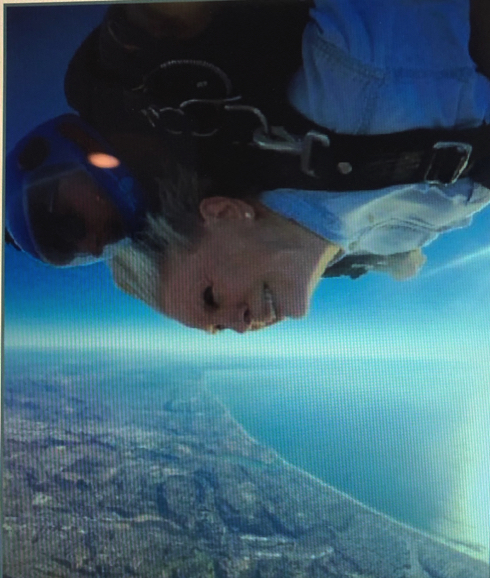 Donna Schumacher Sky DIving
for her
75th Birhday